The white-tailed sea eagles of the Aliakmonas Delta at the Eurobirdwatch Day 2016
The two impressive and rare white-tailed sea eagles nesting at the Aliakmonas Delta accompanied us during the celebration of the Eurobirdwatch on the 2nd of October, at the Observation Tower of Nea Agathoupoli. The pair –one of the few of the species nesting in Greece- flew over the wetland in seek of food, offering thus impressive views to the participants of the event.
Apart from the sea eagles, the visitors of the Observation Tower on this day had the opportunity to observe hundreds of other birds as the wetland was crowded with ducks (pochards, mallards, ferruginous ducks, shelducks, Northern pintails etc.), herons (little egrets, great egrets, grey herons), birds of prey (1 spotted eagle, 1 short-toed snake eagle, 6 western marsh-harriers), flamingos, as well as more than 100 Dalmatian pelicans.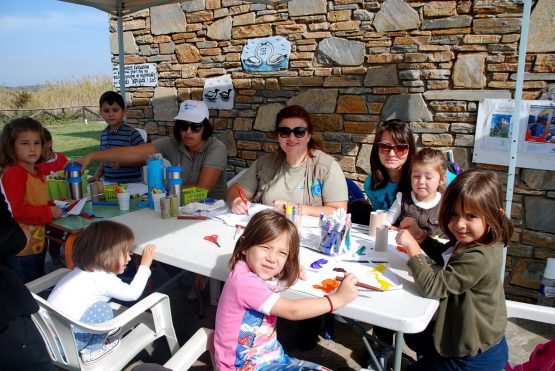 The kids took part in environmental games, cycled on the bike lane and also were introduced to the world of the insects with the stereoscopes and microscopes of the Microcosmos program.
Eurobirdwatch is the annual event for birds organized worldwide for the last 22 years, with the initiative of Birdlife International. In Greece each year the Hellenic Ornithological Society co-ordinates Eurobirdwatch events in more than 40 areas.