30 cranes and 10 Tundra swans were the protagontists of 2020 Midwinter Birdcounts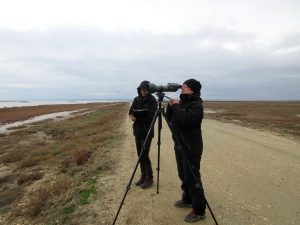 Thirty cranes and ten Tundra swans were the protagonists of this year's Midwinter Bird Counts that took place on Sunday 12th of January in the Axios Delta Protected Area. Three groups of volunteers and Management Authority personnel spread along the Axios, Aliakmonas, Loudias, Kalochori and Alyki Kitrous wetlands to screenshot the bird numbers and species on this certain date and contribute to the International Waterbird Census of Wetlands International.
The Census takes place each year in more than 100 countries with the participation of around 15.000 counters, most of which are volunteers. The collected data allow an estimation of the populations trends and of the changes taking place in the wetlands around the world.
In the Axios Delta Protected Area the total number of the ducks counted was relatively low this year, leading to the hypothesis that the birds remained in northern countries due to high temperatures. On the same line, only 4 greater spotted eagle from Russia or Belarus were seen in the Aliakmonas Delta, instead of the groups of around 30 spotted eagles overwintering the previous years.
On the other side, the birdwatchers were surprised to see six spur-winged lapwings, that normally only come here to nest in spring. The presence of 30 cranes and 10 Tundra swans also took the ornithologists by surprise leading them to discussions about possible impacts of the climate change.
Among other sightings the birdwatchers spotted 10 black-throated loons, rare visitors for the area, a passer-by osprey, around 2.000 flamingos and some thousands of ducks, mainly mallards and common teals.